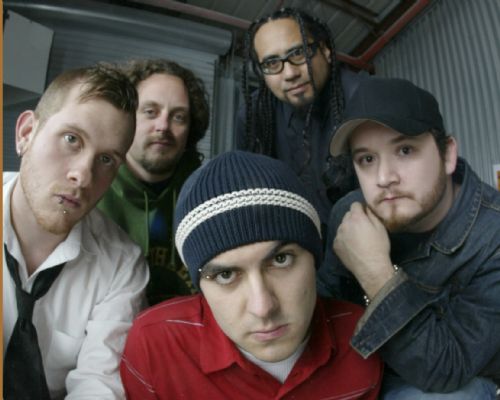 Hailing from the working-class confines of the San Francisco East-Bay, California quintet Unjust have matured into a complete rock band, as evident in the release of their thrid album "Glow". Building on their brisk subversive metal sound, "Glow" is a moody and melodic opus that showcases the bands wide range and musical depth.

Unjust managed to create a groundswell of underground buzz with their critically acclaimed 2001 release "Makeshift Grey". Building on the bands crushing blend of dense riffs and captivating vocals, singer Paul Mendoza leads Unjust into a moody and melodic world known as "Glow". From the angst and undertow of emotion on the heavy-hitting "Knuckles", to the illuminating tranquillity of "Closure", and symphonic simplicity of "Falling", Unjust have evolved into one of the most progressive bands in the current rock scene.

In the December of 2003 Unjust were signed to US-Based Kool Arrow Records (the label headed by Bill Gould of Faith No More fame), this was soon followed in February 2004 with the band signing to Copro Records in the UK.

The bands third album, titled "Glow" and Produced by Mark Keaton (Machine Head)is a more progressive, well rounded and optmistic offering than the bands previous two releases.Intense thundering rock tracks and subdued introspective ballads. The band seamlessly transition styles with sonic elegance and artful ease. And early indications and feedback has been overwhelming. In fact one Major European publication, managed to slip the album onto their Top Ten Albums of the Year, having had the promo played around the Office for sometime last year. Incredible!
Paul Mendoza - Vocals
Mike Merino - Guitars, Vocals
Eric Wong - Bass
Brian Palkowski - Drums
Thom Tucker - Keyboards
Visit Unjust's Offical Website


14/07/2006
Great American Music Hall
San Francisco, USA


Unjust - Glow
1. Paper Planets
2. Throwin' Pennies
3. Way Out
4. Tired
5. Facepaint
6. Falling
7. Meantime
8. Closure
9. Knuckles
10. Naming The Monster
11. Notes From A Sunday Morning
12. Capital
13. Myron
14. Room 5
Cat No: COP032 - Released Worldwide: 22/03/2004 - DIGI
Buy Unjust's - Glow Online Now!